Our car fleet
Our cars and travel classes
Our fleet of vehicles includes more than 50 well-maintained and technically flawless vehicles that are no more than 24 months old. In the high season we book regional and selected subcontractors to cover the transfer peaks. When selecting our partners, we pay particular attention to ensuring that the vehicles and chauffeurs also meet Four Seasons Travel quality standards.
Your transfer will be carried out with the following vehicles according to the booking class you have chosen:
Economy Class, Economy Plus Class & Private Class:
Mercedes Sprinter 8 seater, Mercedes Vito 8 seater, Ford Transit 8 seater.
In high season and in case of requested large groups we also use our 30 and 50 seaters.
First Class: Mercedes V-Class 6 seater
(Limousines and special classes available on request and for an additional charge)
The transfers always start at the pick-up address you specified during the booking process or at our transfer desks and meeting points at the various airports, where our staff will be waiting for you.
Travel schedule
You will receive the pick-up time to the specified pick-up address the day before your transfer via SMS and/or email.
In Economy Class you share your transfer with other passengers, so there can be up to 7 stops (with 8 single passengers). Pick-ups from regions/locations far away from the basic route, will be organized by us with feeders, so that there are no long detours for bookers of the basic route.
Your guaranteed maximum waiting time at the airport after arrival at our service and reception desk or after meeting your chauffeur is 60 minutes in Economy Class.
In Economy PLUS Class, the maximum waiting time at the airport is 25 minutes and you will reach your destination after a maximum of 2 stops on the transfer route, which means that the third stop at the latest will be at your destination.
In Private and First Class you will be met at the airport by your chauffeur with a name sign, at the arrival gate, after the customs area, and directed to the vehicle. You will not have any waiting time or further stops (unless specifically booked by you) until you reach your booked destination!
Children
Please indicate the age of your children when making your booking. We will provide the appropriate child seat for you at no additional charge.
Smoking ban
Please note that there is an absolute and strict smoking ban in our vehicles of all classes.
---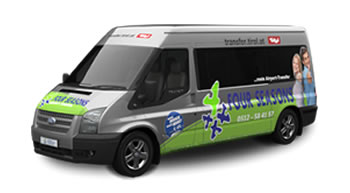 Ford Transit
The Ford Transit is the vehicle used most in our shuttle service. This people carrier offers passengers plenty of space and comfort and the highest level of safety. Its car-like characteristics offer competent and accurate manoeuvring at all times. The technical efficiency ensures that guests enjoy a reliable and relaxing journey to their end destination.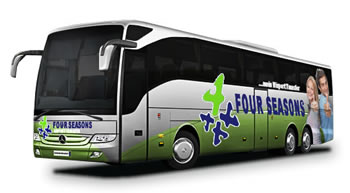 Coaches
During the peak season, up to 40 vehicles form part of our fleet and we also work with carefully selected partners during this time to ensure that we are able to cover all the booked transfers without any difficulty and we can offer modern 19, 30, 50 and 58-seater coaches.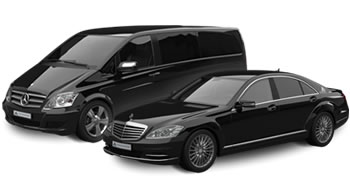 First Class
Pure relaxation – your chauffeur awaits you directly at the arrival gate with a name tag and accompanies you to your luxury limousine. You travel in comfortable seats quickly and stylishly to your destination – of course without further stops.